Women in IT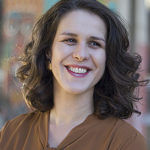 Aleksandra Bošković
May 24, 2019
---
On Wednesday, May 9th, the IPC Technopolis, organized a conference "Go Digital" as part of the project "Female Youth 4 ICT". One of the lecturers was Aleksandra Bošković, CEO of Bild Studio. The panel was also leaded by: Nada Rakocevic (Chamber of Commerce and Industry of Montenegro), Mirjana Begovic (Ministry of Public Administration of Montenegro), Sanja Simonović (M: tel) and doc. Dr. Ivana Ognjanović (UDG) and Nataša Mijatović who successfully lead the panel discussion.
The purpose of this project is to educate and motivate young girls from Montenegro, Bosnia, and Hercegovina to start their career in the IT industry through the good practices and transferring of knowledge and skills from the European partners.
During the panel discussion, we addressed the fact that the times are changing and a lot of IT companies are taking further steps to organize internships and other forms of education that will attract more female employees and help them to find a job promptly.
Special attention was paid to the opportunities women in the IT sector have for advancement in their careers since it is not unusual for women to find themselves in middle management positions, while the top management positions are still "reserved" for men.
We also talked about many benefits offered by the IT profession, such as remote work, international working experience without leaving the comfort of your own home, constant improvement and access to the global labour market. The basis of a successful career is learning, keeping up with trends and their successful implementation. Building a successful career takes time, effort, and patience. If you're willing to sacrifice some free time, and you are eager to get out of your comfort zone, you will succeed.
Commitment, enthusiasm, lifelong-learning and hard work is the only way to get a good job and allow yourself to work anytime from anywhere.
It was challenging to make a decision since every team had terrific and innovative ideas, which are designed to help local communities. However, we needed to make a decision, and the prize was awarded to a team of girls that created an application for people with diabetes disease.
IT Technopolis has provided valuable prizes, not only for winners but for all other participants, which we believe, motivated all participants to not give up on great ideas, but to improve. And who knows, maybe in future some of those patents that stemmed from this project will change the world.
We are delighted to have had the opportunity to share some truly inspiring stories and inspire women to switch their career and move into IT.
This type of conference is the ideal manner to inspire and encourage women who are uncertain of their careers, or they are willing to become a part of the IT profession.
Once again, we are grateful to IPC Tehnopolis for the opportunity to meet successful businesswomen and to discuss the importance of women and their contribution to the IT industry.
When one woman helps another, wonderful things follow.
Greetings from our team!